The Statistics
RoSPA statistics appear to indicate that 30,000 door finger trapping accidents occur every year. However, NHS research appears to indicate 80,000 accidents occur, costing the NHS around £240m every year. For every statistic there maybe another ten unreported traumatic injuries.
Amputation and lifelong disability is too often the result of these accidents.

Identifiable risks can be eliminated through adequate risk assessment and use of suitable safe shields.
Door Finger Protect

or

®

The 16 tonne guillotine action of an unshielded door as it closes gently into hinge cavity can cause traumatic finger injury. The vulnerable, young, old, disabled and those susceptible through occupation, or mental health including NHS self harming patients are at great risk. These people look up to you to provide their safety. A potential accident or lifelong disability need not be your fault.
The Solution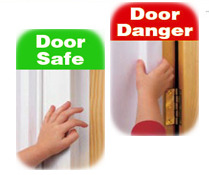 Door Finger Protector® is undeniably
the only product you will find with design features to meet the statutory (and reasonably practicable) requirements under Common Law Duty of Care and The Health and Safety at Work Act etc 1974. The shield system is designed to retain its convex shape thereby not allowing injury or the shield to obstruct a closing fire door. Its fixings do not perforate fire rated doors. Its shield is safely extendable so as never to restrict larger or wider openings doors.
Door Finger Protector® can be installed and removed without damage, or disrupting you daily routines on just about any hinged door. It is unobtrusive, affordable and easy to maintain. We will show why nothing else meets all the essential requirements as well as being safe affordable and practicable.